"Let us be grateful to the people who make us happy;
they are the charming gardeners who make our souls blossom."
—Marcel Proust
Welcome to our series of conversations with people we admire. We are in awe of the company we keep and hold dear. Here you will find our favorite treasures spinning their own tales. We hope that these interviews inspire, delight, and comfort. Bon appetite! 
If you've ever wondered about the story behind the picture windows of Martha Mae and The Center of Order and Experimentation you're in for a treat. We wanted to start this series with Jean Cate who is as genuinely kind as you suspect her to be. She is an artist and business owner with a passion for creating community and giving it the space to grow. Sometimes the life we dare to create forges it's own path. It's hard to not fall in love with this story. Enjoy!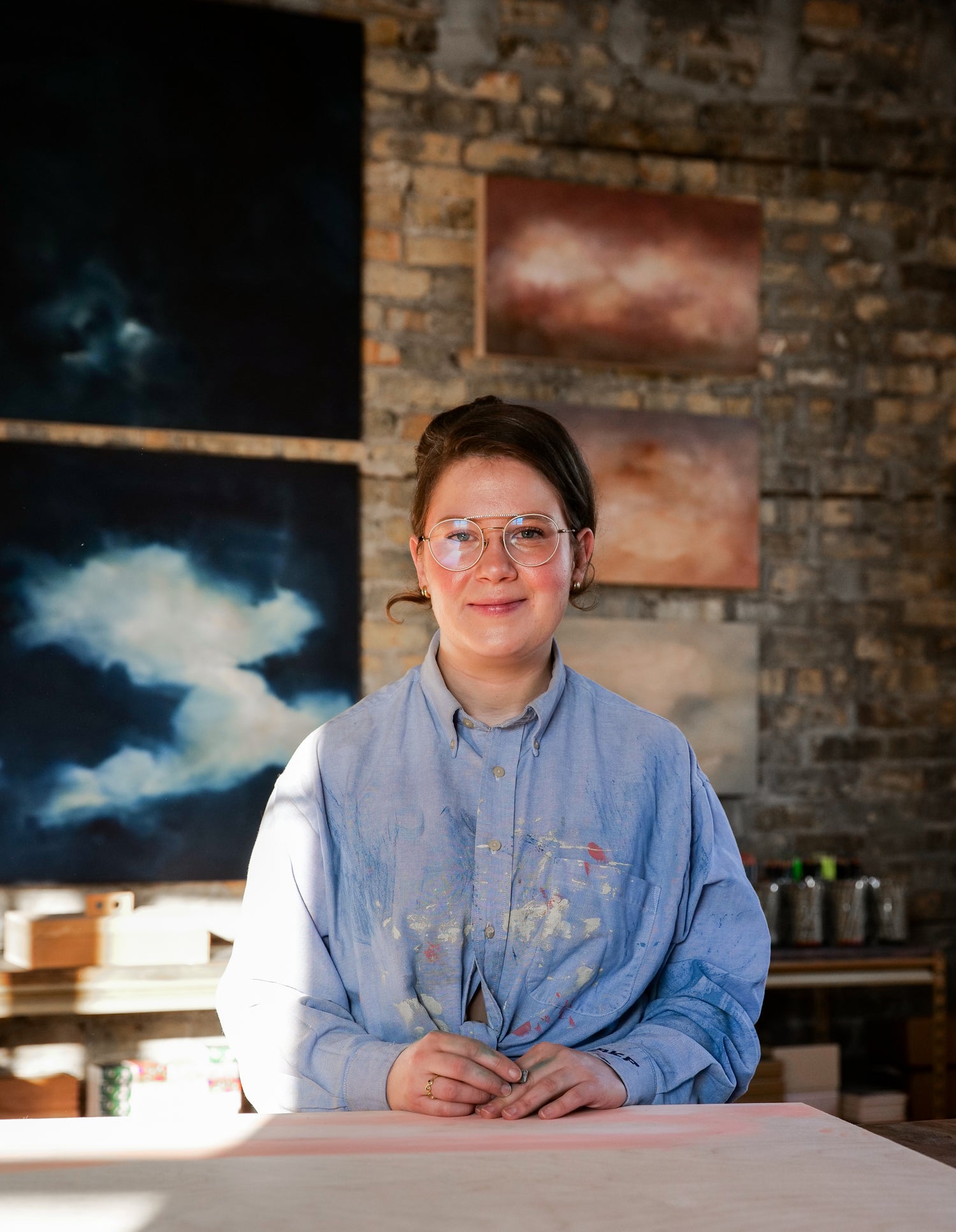 Hi Jean! Would you tell us about your background and childhood?
I was born in Southern California and grew up in the foothills of the Angeles National Forest. The landscape was mostly shades of tan and brown because of drought and fire cycles. A lot of my memories as a kid are in the car listening to music and looking out the window.
I'm one of five kids and was an inwardly creative child. I loved school art projects, writing prayers and very tense love notes to family members (my mom especially) and slipping them under their doors. 
When I was in high school I started taking more formal classes in ceramics, drawing and making wild oil paintings. I fell in love with watercolor on a trip to Ghost Ranch, the home and studio of Georgia O'Keeffe in New Mexico with my aunt and sister.
I never had any real career aspirations, but as a kid wanted to be a geriatric doctor because I loved spending time with my grandmother and her friends at the nursing home or an interior designer because I was devoted to the television show Designing Women.
What drew you to Chicago and what was your art practice like during your first years here?
I came to Chicago for undergrad at The School of the Art Institute of Chicago. I was drawn to the school because Chicago seemed so far away and different from Southern California and the program was open for working across mediums and experimenting.
When I was in school I did a lot of printmaking, drawing, and ceramics. I experimented with performance art and paper making too. I loved tedious, process oriented mediums. One of my favorite classes, that took over and over was Scientific Illustration with Peggy Macnamara at The Field Museum. I loved how she talked about drawing as a way of looking and spending so much time in the museum was wonderful!

What were you planning post-graduation?
The summer before I graduated, I started plotting opening a community art space with a friend. We connected with the Women's Business Development Center and created a Kickstarter campaign and hosted community events, which led us to finding a storefront to rent in Andersonville in 2015.
That concept failed pretty quickly, but I loved the neighborhood and the people I was meeting, so wanted to keep the storefront and find a new direction. My main take away from the community art space was that I needed to create something personal, so I tapped into my love of art supplies, stationery and being helpful to create a retail shop. I named it Martha Mae: Art Supplies & Beautiful Things after my beloved dog and constant companion, Martha.

How did Martha Mae: Art Supplies & Beautiful Things grow in Andersonville?
The first iteration of the shop was a mix of retail and private art lessons. I carried a curated selection of artist tools, notebooks, and supply bundles I packaged by hand.
As the shop grew and it became part of the Andersonville community, I felt like I was living in Richard Scarry's Busytown. I would walk to work, I knew my neighbors, I would see my friends, customers and fellow shopkeepers on the street while running errands. I built so many friendships and partnerships from those early shop days.
How has Martha Mae evolved over time?
After settling into the brick and mortar shop, we opened our online store growing our customer base and our capacity to supply them with beautiful things.
Through Martha Mae, I realized how much I enjoy creating things with other people. I had wonderful experiences collaborating with Aron Fischer of Facture Goods, Andrew Jessup, Danielle Chutinthranond of Monsoon Pottery and other wonderful artists and brands. I love connecting with people through work and expanding what we can think and create by working together.
During the pandemic, my lease was up at the Andersonville shop and I was ready to change and begin a new chapter. For the next year, we operated exclusively online, offering local pickups at friend's shops and businesses around the city. 
My dear friend, loyal customer, and creative powerhouse, Julie Purpura of Avenir Creative, began brainstorming different projects we could collaborate on. We ran through a few ideas and eventually decided we should share a studio/office space and began a search for a space. Eventually, we found 1727 W Grand Ave., and decided to use the space to house our individual businesses and to create a new business together! 
The Martha Mae online shop warehouse and my painting studio reside on the second floor with Julie's Avenir Creative design offices. Our new retail operation, The Center of Order and Experimentation and the Martha Mae Outpost are open to the public on the first floor.

What inspired the new space and how did The Center of Order and Experimentation come to be?
Julie and I wanted to create a concept where we could work together, explore our shared sense of humor (often dark), obsession with utilitarian objects, and 1960's municipal fantasy aesthetics. The Center of Order and Experimentation allows us connect with people and create a community together. Our friend Mike Duesenberg of BL_NK Studio guided us through the naming process and built the brand for The Center of Order and Experimentation around the paradox of creativity and control.
How do you balance two retail shops and painting?
I'm settling into a new balance. In the first brick and mortar location, I was emerging from a long period of personal struggle and isolation and was pushing to build a business and community that I desperately needed. In this season of my life, I am working on releasing control and working with other people to create wonderful things.
My guiding productivity principal is to make things as pleasant as possible! I remind myself that I'm my own boss and I can decide how I want to do things.

What does your art practice look like now?
My art practice has been painting and drawing focused lately. I've been  working on raw wood panels with watercolor, gouache and pastel. I'm interested in working from an intuitive place. There's a mediation I love that talks being present as knowing what to do next, not thinking, weighing options and making a conscious decision about what to do next.

How can we interact with your art?
Stacia Garriott Kass of Sojourn and Tribute curates a selection my work at her beautiful shops. My work is also available online and in the Martha Mae Outpost and The Center of Order and Experimentation.
I accept custom commissions and love working with clients on creating pieces for specific spaces.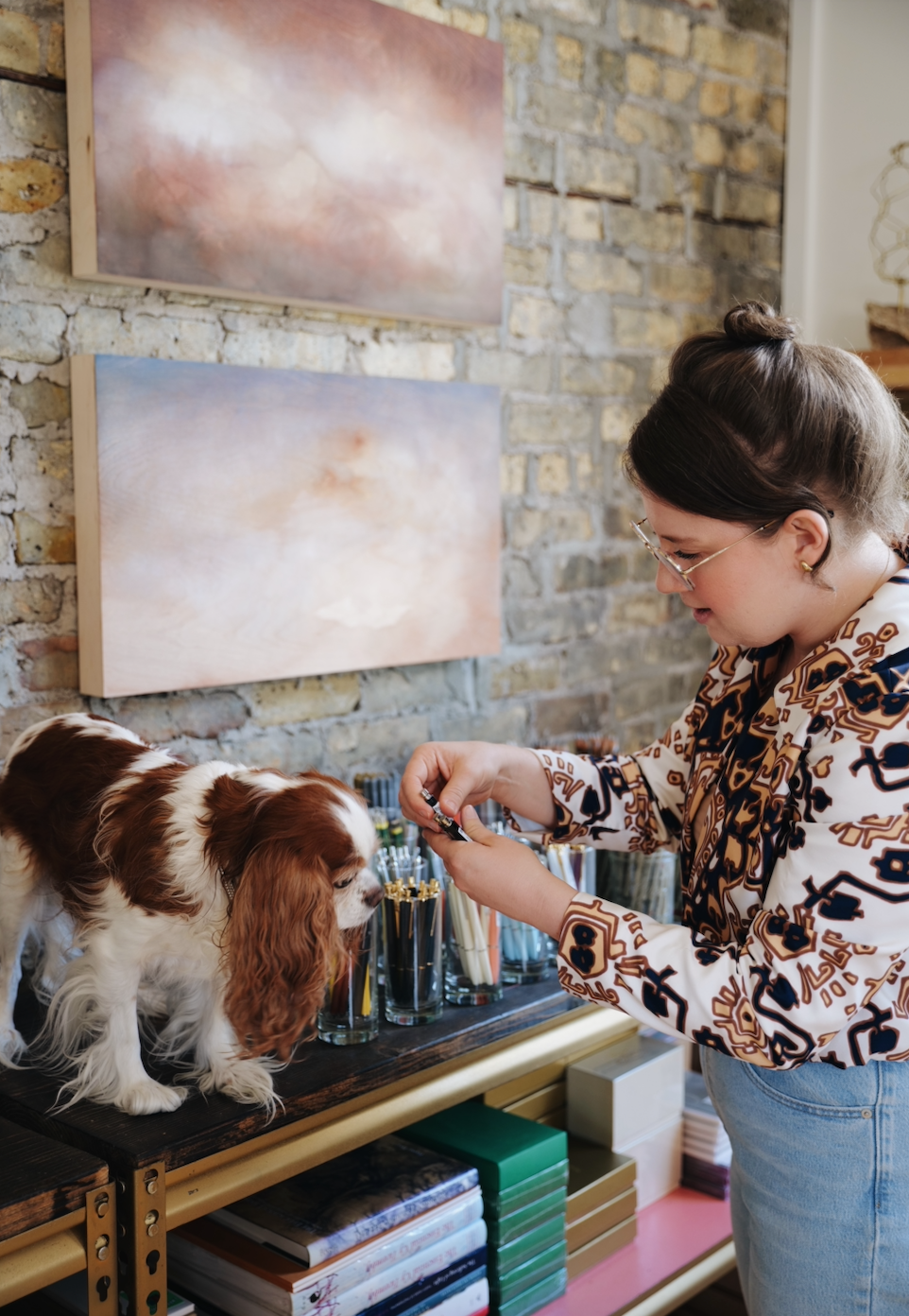 What's Jean Loving?
Something I love about tools and supplies, is that they are pure possibility and perfection. When I would play with my dolls as a kid, I would choose their outfits, create a seating arrangement and close up their house or vehicle so they could start living their lives. I feel similarly about the products I curate. I love bringing them together and taking care of them until they find the people they will serve.
Here is a list of a few of my favorite tools that keep me company and make my life and work more pleasurable.